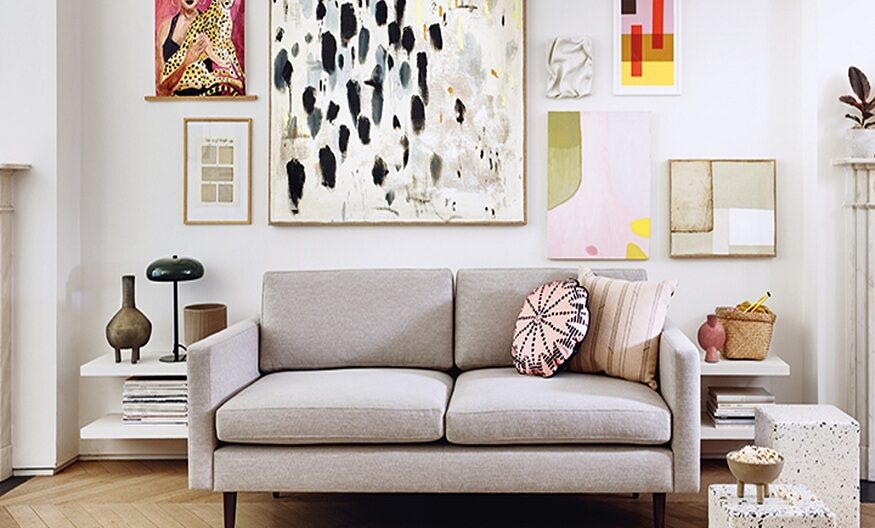 Every home design trend reflects the changes in the lives of homeowners. After a global pandemic, remote work, the chaotic housing market, and slow material production, homeowners have chosen to depart from fast-paced lives and instead search for peace, tranquility, and relaxation within their homes. The home design trends of 2022 are a clear reflection of that change. Nature, wellness, and sustainable living are all the focal points of this year's home design trends.
Neutral and Natural Shades
            Neutral shades are always in style, but natural shades are making a big splash in 2022.  Warm, rich undertones will compliment gray, beige, white, and brown colors creating a Zen vibe at home. The peaceful environments will tie even more into nature with large amounts of greens, blues, deep reds, and earth tones. Jungle greens and deep sages will be the most popular greens in 2022.  Keep a lookout for browns as well. Everything from a deep chocolate brown to golden caramel will be front and center this year.
Curved Furniture
            In 2022 there will be a shift away from hard-edged straight-lined furniture to softly curved pieces. Curved coaches, round ottomans, and oval end tables are taking over living rooms while dining room tables with soft corners and chairs with rounded edges are growing in popularity.  Even bedrooms can be decorated with soft-edged nightstands and circular mirrors. Curved furniture can extend beyond the main pieces in your home and work into accents such as sculptures, lamps, overhead light fixtures, and wall art.
Sustainable Materials, Vintage Accents, and Unique Finds
            With the environment at the forefront of many new homeowners' minds, there is growing regard for sustainably sourced home goods. This means furniture, rugs, accents, flooring, and cabinetry that are made using renewable energy and eco-friendly materials. Sustainable materials are also long-lasting to reduce waste and can be recycled or made from certified sustainable sources. Products such as bamboo, sustainably sourced wood,  hemp, wool, clay, and organic cotton are all sustainable materials.
            Part of living a sustainable life is refraining from purchasing new items. Instead, visit local antique stores, fairs, and markets to find vintage pieces. Reusing or repurposing second-hand items will reduce overall waste. In addition to living a more sustainable eco-friendly life, shopping vintage means more one-of-a-kind pieces. In 2022, homeowners are very interested in filling their homes with items that are unique and personal to them. Vintage pieces allow homeowners to stay away from cookie-cutter big chain furniture and design pieces. Estate sales or antique auctions will also have interesting vintage items that can be added to an eco-friendly home.
Multifunctional Spaces
            Homeowners are still using their houses for work, relaxation, family time, and entertaining which means they are still making use of multifunctional spaces. Furniture will need to keep up with varying uses. Several popular multi-functional types of furniture are fold-away desks, pop-out ottomans, and extra shelving to store whatever gadgets remote work may require. In addition to multifunctional furniture, rooms will need to be multifunctional as many homeowners continue to work and study from home. Creating a divide between work and home life can be difficult if you work or study from home, so it is important to create a work zone that you can leave when the work day is over. Homeowners are using partitions that may be as simple as a bookcase that partially separates a small workspace from the rest of the bedroom or as elaborate as a fully finished half-wall that creates a distinction between the dining room and office area. Furniture will also be used to delineate space – items such as a long couch or a large plant can serve as a divider between work and play.  In addition to using partitions, some homeowners are upgrading their extra closets or pantries into a designated home office.
Biophilic Design
            Not only will nature-inspired color palettes be a hot trend in 2022 but natural designs will also be popular. Biophilic design brings nature into our environments and communities. Using it as a design tool within the home means designing around nature rather than dropping a few natural items here and there throughout the home. Biophilic design isn't just about how a room looks, it is also a method of supporting cognitive function, physical health, and psychological well-being. The most obvious way to bring nature into a home is with potted plants. Snake plants, pothos, palm, fiddle leaf fig trees, and sweetheart plants are common indoor plants.  Many of them require little sunlight while others thrive when placed close to a window. Bonus, these plants require very little care, and some such as the snake plant thrives off of infrequent watering. In addition to potted plants, add an aquarium, small window sill herb garden, and even a green wall for a truly nature-centered home.
Indoor Outdoor Living
            While homeowners are bringing nature into their homes, they are also interested in spending more and more time outdoors. Indoor-outdoor living has become a huge inspiration in many people's homes because of the physical and mental benefits that it provides. Rather than be cooped up in a dark dreary home, people are opening their windows and doors and adding the outdoors to their daily lives. The best way to do this is with a back patio, but if you live in an apartment or have only a small balcony you can still enjoy indoor-outdoor living. With a large patio, you can add ample seating, a source of shade, a water feature, and even an outdoor kitchen.  Outdoor home upgrades are still very popular among homeowners and homebuyers, especially a patio which has increased in value by 65% since 2020.  If you have only a small balcony, keep your outdoors simple with a comfortable chair, a few potted plants, and a place to prop your feet up and enjoy the sun.
High-Tech Homes
            Technology continues to evolve and become more present in people's lives and homes. A move toward more technology in the home means an increase in smart thermostats, door locks, kitchen appliances, bathroom fixtures, lighting, and security features. These types of home technology appeal to not only technology-savvy homeowners but also those that are interested in energy efficiency. Energy efficiency is front and center in many young homebuyers' minds. Nearly 53% of real estate agents have seen an increased interest in energy-efficient home features which add to your home's marketability and value.  It also means gadgets such as self-shading windows and heated flooring. Home decor is becoming more technology-oriented as well –  accent tables can double as a charging station, speakers can double as wall decor, and shelves can open with the click of a button to reveal a television.
            Sustainable living, biophilic design, and a relaxing home are the driving forces behind 2022's home design trends. With nature-inspired colors, soft playful furniture, and vintage decor homeowners can turn their homes into a nature-infused sanctuary.