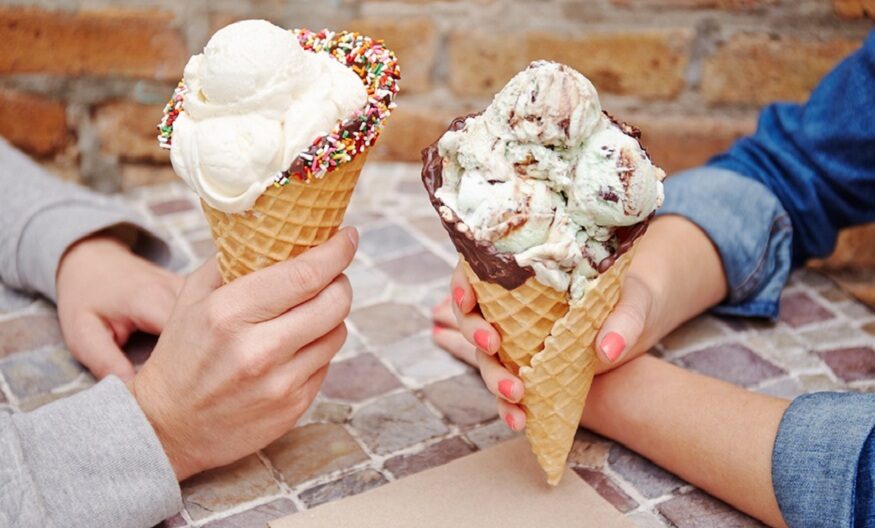 Creamy, smooth, and velvety soft ice cream is the perfect treat for every occasion. Whether you are out with friends by the beach or at a fast-food chain celebrating a day out with your friends, no one can say no to this delicious treat.
As the name suggests, soft serve ice cream or soft ice cream is softer in texture and consistency than regular ice cream. This is because soft ice cream is made with only 3 to 6 percent milk fat that is stored at 25 degrees Fahrenheit. 
Additionally, soft ice cream has more air than regular ice cream which gives it its lovely plushy texture.
Did you know that ice cream served at warmer temperatures brings out the intensity of flavor?
It also melts quicker in your mouth and fills your palate with a sublime and delicious taste. And because soft ice cream is better in texture and taste, it is a treat that no one can refuse.
Believe it or not, many prefer soft ice cream over hard ice cream, and here are the 5 reasons why:
It goes well with every season
 Whether it is a hot summer day or a cold winter one, soft ice cream can be enjoyed year-round with hot desserts like brownies or pies or simply with a cone. These also make great snacks for when you get those midnight cravings. 
You can never go wrong with it
 Soft ice cream is a sweet treat that you can never go wrong with. Everyone loves them. It does not matter if you are a kid or an adult, if you are having a bad day, want to enjoy family time, or simply want to treat a friend to something tempting you can always fall back on soft ice cream. 
There are endless flavors you can enjoy
 Whether you are a fan of plain vanilla, chocolate, mango, strawberry, matcha, or kiwi, you can find soft ice creams in endless flavors. You can never get bored with it! 
It contains less fat than regular ice cream
We got your attention there, didn't we?! Soft ice cream contains milk with 3 to 6 percent fat, unlike hard ice cream which uses at least 10 percent fat. This makes it a healthier alternative to hard ice cream, so do not worry the next time you are indulging in soft ice cream. 
You can prepare it at home
You might think making soft ice cream at home is a challenge but let me share how you can make this delicious treat at home with minimal ingredients. 
Firstly, instead of making the ice cream base at home, you can buy it from online stores like 

Yogurshop

. They sell the ice cream base based on your preference. 
You can choose to customize the base with concentrated paste for different flavor profiles or you can buy the standard flavors – chocolate, strawberry, and vanilla.
If you have an ice cream machine, you can pour in the base and prepare the cone to go with your ice cream. If you like, you can enjoy it in a bowl or like the infamous Mc Flurry. If you have a cold plate, you can use that for the ice cream. However, it is best served from the machine.
In terms of plating, you can garnish the ice cream as you like. If you would like to coat your ice cream with syrup, and whipped cream or fruits, you are free to do so. 
Some even like sprinkles on top of their ice cream or crushed Oreos. The options are unlimited, and you can plate them as you like. 
If you are a fan of soft ice cream, let us know how you prepare it at home or how you like it served.