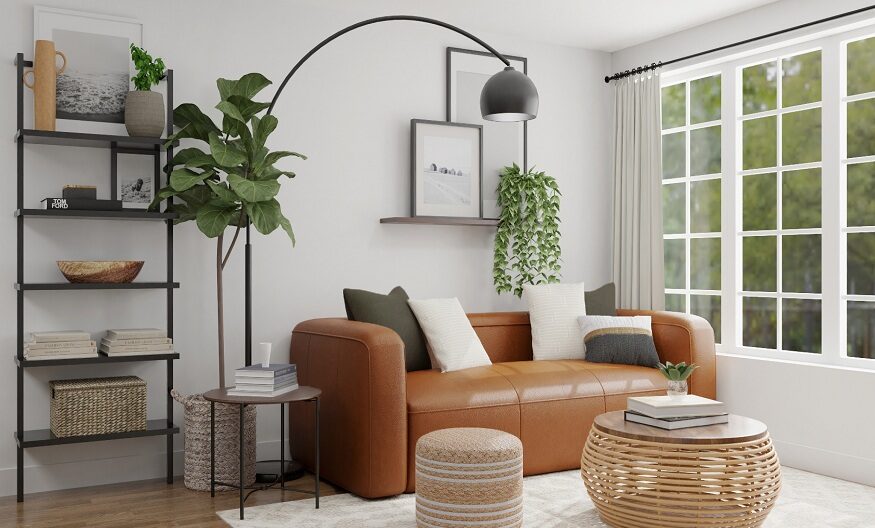 Decorating your living room can be an exciting experience. There are plenty of factors that you have to take into consideration. One of the most important aspects is the budget. The design of your Indian living room strictly depends on how much money you can invest. While some living room ideas are expensive, others are quite affordable and economical. You do not necessarily have to choose an expensive living room idea for designing your home. Sometimes, many simple tips and tricks can help you design an expensive-looking place within a budget. If you are not sure how to spruce up an Indian living room design on a budget:
01 of 05 Change the position of the furniture pieces
The furniture pieces you choose for your Indian living room design have a huge impact on the overall look. Many people consider replacing the furniture pieces to change the living room interiors. However, it can result in a lot of expenses. If you want budget-friendly options, it may not be a great living room idea for you. Instead, you can consider rearranging your existing furniture pieces in the room. If you have heavy furniture, it may be quite difficult but it is surely worth the effort. This will help you to completely change the appearance of the room without making any additional expenses. However, there is one important thing you must not forget before rearranging. Taking accurate measurements before rearranging the furniture pieces will ensure that they fit in your desired place. You do not want to find out that the furniture pieces will not fit after moving them all the way.
02 of 05 A focal point is important
When you are decorating your living room interiors, you must always create a focal point. A focal point can help to make the space appear more appealing. Moreover, there are many affordable focal point ideas you can come up with for your living room design. This will help to ensure that your living room appears aesthetically appealing and does not cost you a lot of money. One of the most common budget-friendly ideas is making the TV the focal point of the room. This will help to create a focal point without making a lot of additional expenses. You can either paint the wall behind the TV and install wooden panels for a more luxurious feel. For making the space more functional, create shelves and cabinets around the TV. By creating more storage space in your living room design, you can prevent clutter.
03 of 05 Only replace the upholstery of your furniture
After some time, you may get bored with your old furniture pieces and rearranging them might not do the trick for you. To give your furniture pieces a new look without making a lot of expenses, you can replace the upholstery. Although changing upholstery might cost you money, it will cost much less than buying new furniture pieces. Hence, it will help to spruce up your living room design on a budget. Also, there are many upholstery fabrics available in the market that you can choose for your furniture pieces. People with a low budget can opt for fabrics that are affordable but make the living room interiors appear luxurious and elegant. Besides the look and price of the upholstery fabric, you must check the comfort level as well. If you do not feel comfortable when sitting on your furniture, aesthetically appealing furniture pieces will not be very beneficial.
04 of 05 Decorate your living room interiors with plants
In modern homes, many people have started using plants for decorating their Indian living room designs. Using plants is a great idea because you can add more colours and textures to your living room using them. Further, plants help to purify the air indoors. As a result, the interiors feel very refreshing as well. Also, they are the perfect decor items for people looking for budget-friendly options. You can easily buy home plants at very cheap rates. Depending on your preferences, you can either place potted plants in different places in your living room or create a beautiful green wall. For creating a green wall, you will have to install shelves on the wall. This will result in additional expenses.
05 of 05 Buy new curtains
Curtains are quite cheap compared to most items found in a living room. To spruce up your living room interior design, you can consider buying new curtains for the windows. However, this does not mean you should invest in cheap quality materials. The look of the curtains will have a huge impact on the aesthetic beauty of your living room. Make sure that the colours of the curtains complement the colours used in your living room design.