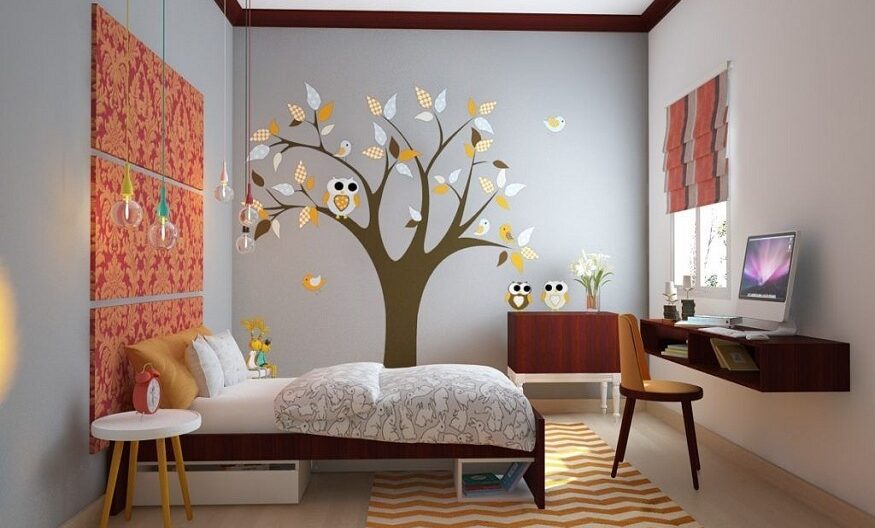 Your bedroom is a space that should make you feel calm and safe. Choosing a soothing colour scheme for your walls and having minimalistic furniture pieces help in attaining a Zen atmosphere in the room. However, if you don't want to do a costly room makeover, then adding stylish wall decals is an affordable alternative to achieve your goal. The best part about wall decals is that they are easy to install and it can be a DIY project your family can do together.
Though sticking decals on walls is not rocket science, there are a few things you need to keep in mind before you jump into the task. Keep reading to learn about 8 handy tips for applying bedroom wall stickers like a pro.
1. Choose your wall carefully
Wall decals work best with smooth, clean walls so choose a wall that is not rough or textured. While matte, glass and plain walls are ideal choices, stay clear of brick walls, stucco and concrete walls. Remember to wait for at least two weeks for them to dry out nicely before you stick wall stickers on freshly painted walls.
2. Prep the wall
Many people skip this step thinking it doesn't matter. However, if your wall is oily or dusty then your wall stickers won't stick properly and will come off easily. So, thoroughly clean your wall with a slightly damp cloth and let it dry out completely before you stick the decals.
3. Keep in mind the weather
It is not advised to stick wall decals in the monsoon as the walls might hold moisture which will affect the durability of your stickers for walls. Also, an ideal temperature to stick the wall stickers properly is between 60° and 80° F, so you can adjust the temperature of your bedroom accordingly.
4. Take out the tools
Once you start peeling the decals, it will be difficult for you to run around the house for tools, so it is recommended that before you start the project, you gather all the tools you will require. Some handy tools to have with you are a ruler, cloth, sponge and masking tape.
5. Customize the size
Measure your walls before you decide on a size for the wall stickers. You can also cut the wall decals with a sharp utility knife to fit a certain wall in your bedroom.
6. Do it patiently
Your bedroom wall stickers will demand a lot of patience on your part. You don't want to speed up the process only to have a wall decal that look tilted. So, schedule a day where you will have enough time to carefully install the stickers for walls.
7. Ensure they match the aesthetic
You don't want to go through the trouble of installing your decals only to later realise that they don't match the overall vibe of the room and are clashing with other elements of your bedroom. A useful tip is to select wall stickers that have an accent colour from your wall paint or your furniture pieces so that they all look cohesive.
8. Be careful with the backing layer
After sticking the wall stickers, you need to peel off the top back cover. If it doesn't come off easily, a useful hack is to dampen a cloth and wet the decal paper slightly and gently peel off the layer.
Wall stickers and decals instantly transform your bedroom and make it appear lively and chic. So, when are you revamping your bedroom by adding some wall decals to your favourite walls? If you are on a hunt to find some unique and trendy stickers for walls, then visit Asian Paint's website right away!