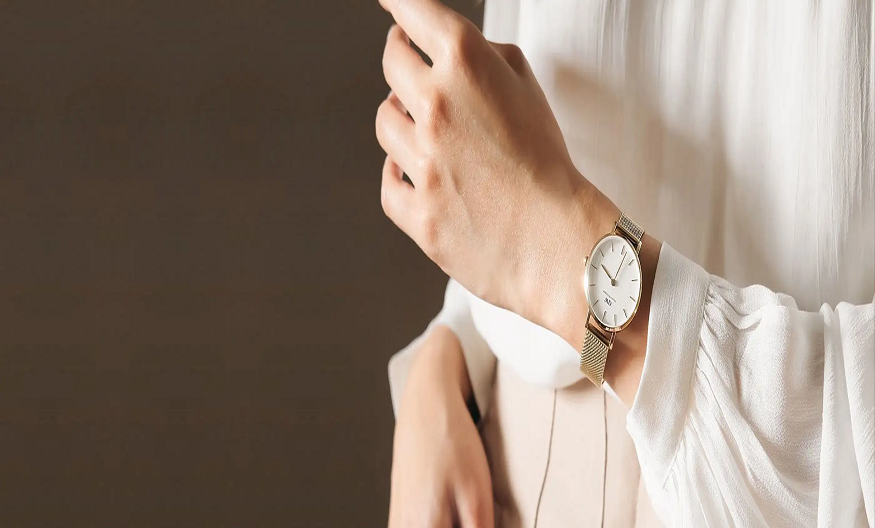 Like a diamond ring and pearl earrings, a luxury watch is another essential piece in a woman's jewelry collection. It is a timeless piece that can transform your look in a big way and highlight your style. The thing that makes a luxury watch different and more treasurable than other pieces of jewelry is its function. No piece of jewelry brings a sophisticated, timeless, complex, and practicality as a watch. So, if you are a woman looking for guidance on how to wear luxury watches, you have come to the right place. We will advise you on choosing and wearing your luxury watches to feel and look great. Read on to find out more details about styling your timepieces and selecting the make and sizing to find the best style that suits your personality.
1. Choosing Oversized Watches
Women's watches are slimmer, smaller, and more designed with sparkles and bright elements. Sometimes the timepieces are the same as men's, only that these are scaled down a bit. You might notice that most men's and watches for women have almost similar features, only that the women's are adjusted a bit to set them apart. Today, watchmakers are creating unisex watches to fit anyone. However, the bracelet or band's width is often adjustable to a woman's fitting. Of course, nothing is wrong with smaller and slimmer watches. In fact, they are excellent choices for different occasions. However, that does not mean you cannot try the bold, oversized, sporty timepieces to make a style statement while adding functionality.
2. Knowing the Makes
The best luxury watches for women are made by a few manufacturers dedicated to producing these timeless pieces. While several watchmakers produce watches for women and unisex watches to fit both genders, there are those well-known and popular for creating high-end luxury watches. Here is a non-comprehensive explanation of the best watchmakers you can try.
Rolex
Rolex watches for women have an iconic, classy, and sporty style that offers an elegant aesthetic. By far, these watches are impeccable, the most recognized Swiss designs, and the game changer. For instance, the Lady Datejust is something out of this world. It offers a striking and petite design that most fashionable women love. So, this is the timepiece if you want to add sophistication to your outfit.
Hublot
Hublot, pronounced as oo-blow, gets the name from the French word "porthole." Hublot luxury watches are recognized by their chic porthole-shaped casing and boldness. The piece has gained popularity since 1980 and continues to be great.
AudemarsPiguet
The AudemarsPiguet is another iconic luxury watch you can add to your wardrobe. It features a high-tech and glamorous style to give your outfit the elegance it needs. The watch is one of the favorites among luxury watch collectors.
Cartier
You may notice that people like Michelle Obama, Madonna, and other female icons wear Cartier watches most of the time, and there is a reason behind the choice. Its elegant, chic, and dressy look makes it a perfect choice to add to sophistication. It is best known for creating an elegant and Avante-Garde style.
Buying Your Watch
Once you know the different makes of luxury watches, it is imperative that you know how to shop. Unlike most luxury items, you cannot just enter a jewelry shop and get precisely the piece you want. You need to do a lot of research and groundwork to find an original luxury watch at the best price. So, when buying the watch, here are a few things to consider.
Online or Physical Shop
Do you want to buy your watch online or from a physical jewelry store? Whatever choice you make, the vital thing is buying from a reputable dealer. However, buying watches online can be a better choice since it does not limit you to a specific location. You can also compare prices from different online stores and choose the best. More so, online stress provides more extended warranties and certificates of authenticity.
New or Used
Whether to buy a new or used luxury watch is a decision you must make based on your budget and personal preferences. If you want something vintage, you must go for a pre-owned one. The best thing about buying a used luxury watch is that you can save money. Again, buying from a reliable and trustworthy dealer is advisable to ensure the product is authentic and high quality.
Insurance
Luxury watches are expensive, and some people buy them as investments. In that case, insuring it can be a wise step to protect it from getting lost or stolen.
Tailoring the Watch
Beyond the style, you require a watch that fits properly around your wrist. A poorly fit watch looks unprofessional and will ruin your entire look and first impression. Remember that a watch should not be too tight to the point of leaving imprints to be considered fitting. It should also not be too loose such that it might fall off if you drop your hand. The best way is to find the balance between tight and loose. Try inserting a finger between the band and the wrist. If it fits, that is probably the correct size. Proper sizing is essential to ensure the watch is comfortable to wear and functional. You can adjust the bracelet at home without requiring any tools. However, with some timepieces, you may need to take it to your local jeweler to adjust the size.
Another way you can tailor the watch to your liking is by sapping the band with a bracelet. You can also try leather bands if you like low-key style. The important thing is picking something glamorous and depicting a sense of style.
To Wrap It Up
A women's luxury watch can become something you pass down from one generation to another in your family. So, start by choosing an authentic timepiece and remember to insure it so you don't lose it. Making a bold style statement requires you to pick pieces of jewelry that complement your outfit. Therefore, this guide can help you wear luxury watches correctly.