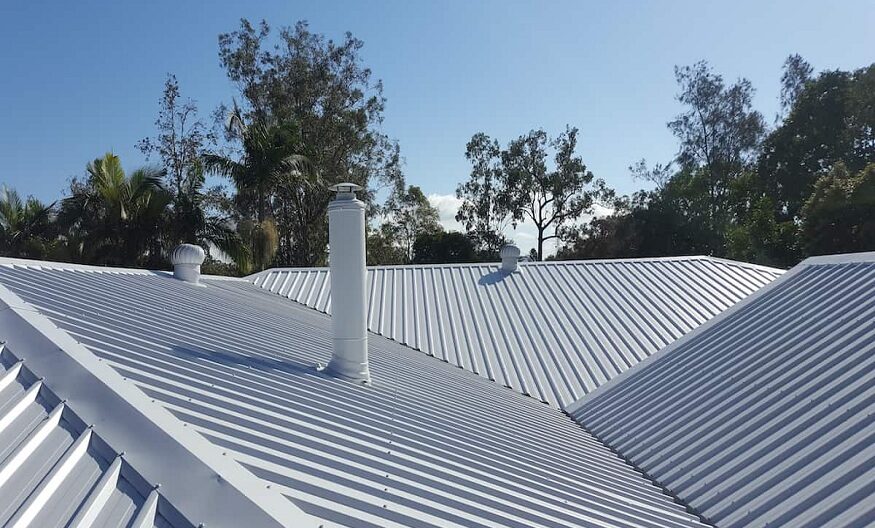 It's easy to ignore the importance of your roof. Damage to a roof may have disastrous consequences. Because of this, you should think about the best ways to safeguard your roof from damage. An excellent option is to apply a white roof coating. Adding white roof coatings in NOLA to your roof is an effective way to shield it from external elements and water damage.
White Roof Paint:
White roof coating and white roof paint are frequently mixed up. Here's how white roof paint is different
The misconception is that, despite the potential for some early reflecting value, "white roof paint" neither eliminates heat nor has any waterproofing properties. 

There are no actual major energy-saving qualities to white roof paint. Additionally, all-white roof paint has a short-lived reflectivity value. Just paint, white roof paint is what it is.

Roof paint only lasts a few seasons at most before it starts to peel, crack, and chip. 

White roof paint is not designed for roofs with any kind of standing water problems and will not endure. White roof paint has an extremely limited lifespan, even on pitched roofs.
White Roof Coating:
Roof coatings in white are an elastomeric barrier that is reflecting and thermally insulating, as well as waterproof. Thickness is critical for white roof coatings.
Properly placed white roof coatings should withstand even the most severe heat cycles without cracking, bubble lifting, chipping, or peeling. 

They should expand and contract with ease.
Solar Reflectance, Thermal Emittance, and Solar Reflective Index (CRRC) are all factors that should be taken into account when evaluating a real white roof coating. 
3 Benefits of White Roof Coating
1. Water damage may be prevented using white roof coatings
It's important to remember that water damage is one of the most significant risks to the structural integrity of your roof. Whether it's rain or dew, water will damage the components in your roof quickly. 
Mold, mildew, and decay may also be caused by water damage. Providing a barrier against water penetration is one of the primary tasks of coating on the roof.
2. White roof coatings may help you regulate the temperature inside your building
The heat from the sun's rays is absorbed into your structure as it touches the roof. As a result, you'll have to utilize your thermostat to regulate the temperature in your building. To put it another way, your roof is really making it very hard for you to control the temperature in your building at an appropriate level.
3. Extends your roof's lifespan
Roof replacement is a nuisance that no one wants to deal with more often than is absolutely required. A high-quality coating might be an excellent investment for this reason. The longevity of your roof may be extended forever with the use of a white roof coating. This is a worthwhile investment for many homes and business owners.
SureCoat and Sure-A-Thane: (White Roof Coating)
Roof coatings aren't all the same. There are a number of roof coatings out there that are nothing more than a fancy name for cheap white acrylic roof paint. 
SureCoat and Sure-A-Thane are SureCoat Systems' Super VOC compliant white roof coatings that are tested to save energy and protect roofs against water damage.  
What makes SureCoat and Sure-A-Thane White Roof Coating so Great?
SureCoat Roof Coating 
Low sloping and flat roofing, including commercial, industrial, and residential, may all benefit from the waterproofing and increased reflectivity provided by SureCoat Roof Coating Products, a line of roof coatings.
Sure-A-Than Roof Coating
Energy expenses may be reduced by using Sure-a-thane. All roofing substrates may be coated with Sure-a-thane, which is rapid drying and has good adhesion capabilities. Sure-a-thane was created to shield current roofing materials against water damage and the damaging effects of ultraviolet rays.
Protect Your Roof with Roof Coating in NOLA
The roof of your house or company may be in need of some TLC. The expense of replacing a roof may quickly run into the thousands. As a homeowner or company owner in NOLA, you want to lower your utility expenses as much as you can.
 For a reasonable price, you get a remarkable number of benefits from a roof coating. For example, they may restore the underlying roof, increase insulation, enhance emissivity and reflectivity, prolong the service life, and minimize life-cycle expenses.