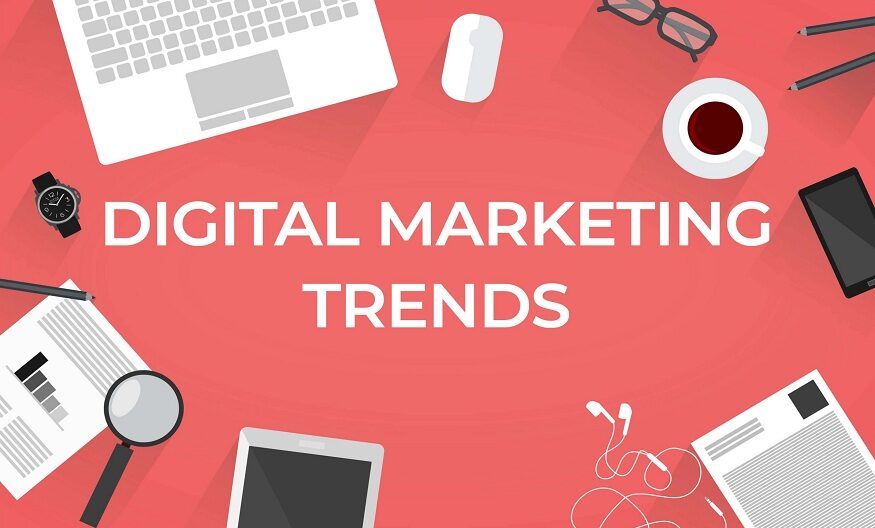 New and surprising digital developments emerge every year when it comes to the future of marketing. Our expectations have not been exceeded even in a year that has seen so much upheaval as 2021 has been. Digital marketing trends in 2022 are expected to be some of the most innovative yet.
Many new and exciting advancements in the digital world will influence how we connect with our target audience overall. Our digital marketing agency has compiled a list of the most important digital marketing trends to keep an eye out for in 2022.
Digital marketing trends to get ahead of in 2022
1. Short DIY videos 
With the advent of TikTok, status updates and curated picture grids have lost their luster in the age of micro-videos. In no time at all, Instagram launched its Reels feature, and YouTube started focusing more on 'shorts.'
Short films underscore the necessity for basic and fast messaging or exciting material that urges us to participate—whether it's learning a new dance, joining a challenge, or participating in surveys and polls.
A significant advantage of these short movies is that anybody can put together a video that isn't very finished using their phone. In addition, these short, engaging videos are frank, behind-the-scenes, DIY, true tales, and have a more unpolished appearance are what younger customers are looking for.
2. Tell a real story
Brand marketing by a digital marketing agency is all about storytelling. In today's market, customers are fed up with hearing about how you, the brand, think your product or service is superior to the competitors. You should explain how you have fulfilled your commitments in a manner that has satisfied their needs and expectations.
Businesses should not stand back and allow their reviews to speak for themselves. This shifts the emphasis of your marketing away from merely informing customers about the advantages of their product or why it's better than their rivals; instead, companies should use tales and client testimonials to explain how their products or services may assist in solving a particular issue.
It may not directly lead to sales, but it's a terrific method to position your company in the thoughts of potential customers investigating a specific topic. Make sure you're the first person people turn to when things go wrong.
3. Focus on your audience
People who use social media have become exhausted, nervous, and sad during the last year due to the nonstop stream of material. Others have decided to cancel their accounts permanently. Those who stay must deal with the daily deluge of advertisements, campaigns, and breaking news that clogs their social media feeds.
Consider how many salesy postings a person sees in a two-minute scroll, and think about how and why yours stands out. Your message will reach the most interested people in what you have to offer if you focus your approach on connecting with your current audience and developing your database.
Be careful of being unfollowed by your followers as the digital environment continues to change, as consumers are getting more discriminating about the material they receive and consume. As such, their expectations are high.
4. Privacy, transparency, and trust-building
Consumers are becoming progressively more distrustful of the material they're targeted with because of an overabundance of digital advertising. When it comes to tracking consumers' activity in 2022, digital marketers should be prepared for stricter privacy regulations that will change how they may do so.
Third-party cookies will be phased out by the end of 2023, according to Google. Because of this, many marketers and advertisers will have to rethink their plans.
However, data-driven content and marketing are not done. Targeted advertising isn't done yet. It's time for a new generation of trust and openness between companies and their customers. This upheaval of digital marketing monopolies as we know them is a step in that direction. Customers should understand why you're collecting their information and how you will use it. Make it convenient and straightforward to opt out at any time. Don't gather any data that you don't need, either!
"Keeping it genuine" has become more popular than ever before, and if you're willing to accept it, it's sure to benefit your customer connections in the long run.
5. Personalization
In 2022, personalization will play a significant role. Create targeted advertising that specifically targets your target demographic instead of relying on generic material that appeals to a large audience. While content is essential, it isn't everything. An overcrowded environment requires careful consideration of when and where to deliver your advertisements.
Making an effort to learn about your audience's preferred platforms and how they use them allows you to tailor your messages to each group. You'll be able to get your message out there to the correct people in a method that's most appealing to them, which will save you money and enhance client retention.
Your social media marketing strategy has to take into account not just the specifics of each platform but the cultural contexts in which your product is being sold. The reason for this is that customers who see your campaign at several touchpoints will be drawn in by a variety of material, delivered at a variety of times and in a variety of ways. Isn't making your audience believe that you care about them worth the work, time, and money?
6. Content segmentation
Customers may be segmented by demographics or common interests using segmentation, which has been around for a long time. Segmentation of communications, such as e-newsletters and news updates, is widespread.
Rather than relying on traditional opt-in or opt-out marketing tactics, companies should explore more specific and attentive labeling of their email content to enable users to opt out of getting certain types of material instead.
7. Conversational marketing and quality interactions
Conversational marketing has been around for a long time, and it's nothing new. Social media and chatbots have made conversational marketing even more widespread, and it is transforming the landscape of corporate interactions with consumers.
Perhaps the reason for a growing interest in conversational marketing is that consumers' expectations for quick and direct communications in real-time have been dramatically enhanced by technology over the last few years. These discussions may now take place in more significant numbers, faster and more fluidly than ever before because of the growing importance of chatbots. As a result of this, it is possible to understand the requirements and expectations of consumers better.
According to digital marketing services, those are the top digital marketing trends we think will have a massive impact in 2022. You won't be able to resist the overwhelming want to ignore them. Staying on top of these trends is the best way to remain competitive, grow, and preserve customer loyalty. If you're feeling overwhelmed by these tips, you can hire an expert to help out. Just search online for an "SEO agency near me".