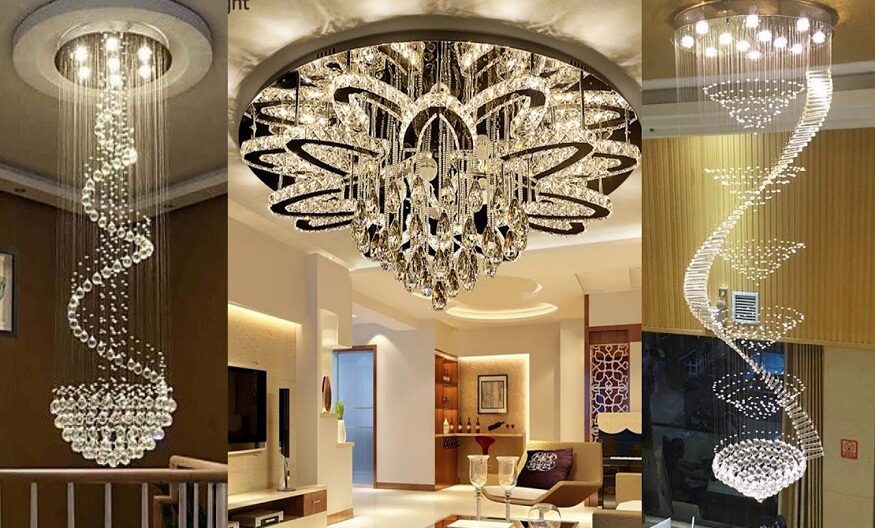 You should choose the right chandelier based on the lighting intent for your room. Are you more concerned with the design or style of the chandelier? Are you more concerned with the lighting the chandelier will provide? Or perhaps it's the finish? There are numerous types of chandeliers and you can easily compare them here.
Chandeliers: What are they?
Now let's take a step back and find out what a chandelier is. Chandeliers are essentially ceiling-hung light fixtures. Chandeliers are typically used in dining rooms, but they can also be used in the living room, bedroom, and patio. The lamps in chandeliers are often arranged in multiple tiers, and they provide ambient light.
Style and Design of a Chandelier:
Finding a chandelier style that you adore for your home is one of the most exciting aspects of shopping for one. Consider the following types of chandelier design to match your home's decor and choose the one that would best suit you.
Chandelier Designs of the Modern Era
A modern or mid-century modern chandelier can be distinguished by both the era in which it is designed and its efforts to create furniture that is both aesthetically pleasing and functional.
Contemporary Chandelier Design
What is the defining theme of your home? Is it innovative design or minimalism? Contemporary design aims to inspire the user to reimagine chandelier design for everyday use by creating cutting-edge chandeliers that break from other styles.
Rustic Chandelier Design
Wood, wrought iron, and Edison-style bulbs are common materials used in rustic chandeliers, which emphasize naturalism and a nod to the American West.
Craftsman / Farmhouse Chandelier Design
Farmhouse chandeliers also provide a bit of nostalgia in the rustic style. Many of these chandeliers feature clear glass or no glass, allowing Edison-style bulbs and aged-looking materials to show off.
Industrial Chandelier Design
Wood and metal exposed in industrial design evoke the image of lighting that is found in factories and industrial settings.
The Lighting Function of Chandeliers
It is crucial to consider how a chandelier will function within your home after determining its design statement.
1. Uplight Chandeliers: Rather than directly illuminating a space, Uplight chandeliers create an ambiance by reflecting light upwards.
2.  Downlight Chandeliers: These chandeliers provide unobstructed light at the bottom, as with traditional chandeliers. When you need direct light as well as ambient light in your room, this is ideal.
3. Ambient Lighting: The majority of chandeliers, except for those with downlights, aren't the best for task lighting-most work better for creating ambient lighting due to their emphasis on diffused, indirect lighting.
Another option is to choose a chandelier that contrasts with its surrounding environment. Choosing a chandelier that matches your home's style is the easiest option. A crystal chandelier may look more dazzling than a simple bell shade in a modern space.
Whenever you select a chandelier, the key is to choose a style that complements the surroundings and does not interfere with the theme of the room. You can choose a chandelier from a reputed chandelier company to suit your needs.