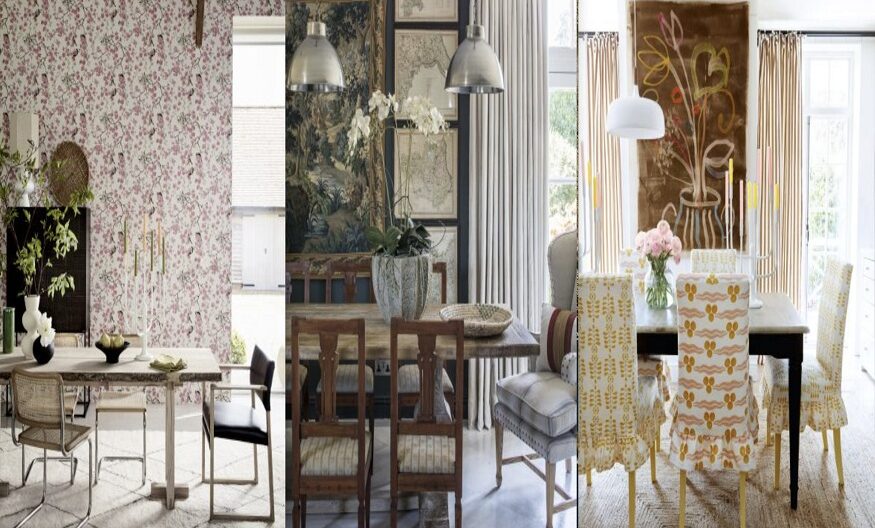 Are you looking to change the look of your dining room? There are so many ways to bring life and texture into your space. Whether you're wanting a rustic, modern, or classic design, wall textures can make a huge difference in giving your dining room the perfect look and feel. Here are 7 creative wall texture design ideas that will take your dining room from drab to fab.
Floral Wallpaper
Floral wallpaper is a timeless look that can be used in any type of decorating style. It's perfect for adding an elegant touch to a formal dining room or softening the look of an industrial-style kitchen. Whether you choose any dining room colour, wallpaper is always a great way to add texture to your walls.
Stenciled Accents
A stencilled accent wall is perfect for creating an eye-catching focal point in your dining room. You can use simple geometric shapes like circles or stars, or add some whimsy with animals or flowers. This is a great option if you want to add texture without needing too much time or effort.
 Textured Paint
 Textured paint adds depth and dimension to any wall by creating a raised surface that reflects light differently than standard paint. It's also incredibly easy to apply – just mix the dining room colour with water and use a roller brush to apply it directly onto the wall in whatever pattern you choose.
Wood Panelling
If you're looking for something with more of a rustic feel, wood panelling may be the perfect choice for your dining room walls. This unique texture will instantly give any space added warmth and character while still keeping things cosy and inviting.
Brick Accent Walls
Brick has been used as an interior design element since ancient times, so why not put it on your walls? A brick accent wall gives off an industrial vibe while still remaining stylish and timelessly trendy  plus it's durable enough to last for years to come.
Faux Finishes
Faux finishes are great for those who want their walls to appear textured but don't have time (or money) for real textures such as bricks or wood panels. You can create faux finishes using sponges and various types of paint – just make sure you practise first on some scrap wood before applying it directly onto the walls.
Wallpapers with Embossed Patterns
For those who love textured designs but want something more subtle than wallpaper with bright colours, embossed patterns are the way to go. These designs feature raised patterns that can be painted over with any colour of your choosing – allowing you to customise them according to your own unique style.
With these 7 creative wall texture design ideas, there's no limit when it comes to decorating your dining room. Whether you're looking for something rustic, modern, or classic — these textures will help bring life into your space and give it the perfect look and feel that fits perfectly within the home of any family member.
So go ahead—try out one of these ideas today and enjoy the transformation in no time at all. Head over to the Asian Paints website to get your hands on contemporary wall texture designs that will add character, depth, and real oomph to your abode.
How can Asian Paints help you with painting your home?
Asian Paints is your one-stop destination to shop for trendy wallpapers, wall texture designs, wall stickers, and wall paint colours. Choose Asian Paints Safe Painting Service and enjoy a seamless and hassle-free home painting experience.
No matter what style of home you want to create, bohemian, industrial, vintage, or mid-century modern, Asian Paints has perfect furniture, lighting, and modular kitchens which will look cohesive with your home decor. Get the best price quotation from your nearest Asian paints contractor & get the best Asian paints royale price for your home painting needs.