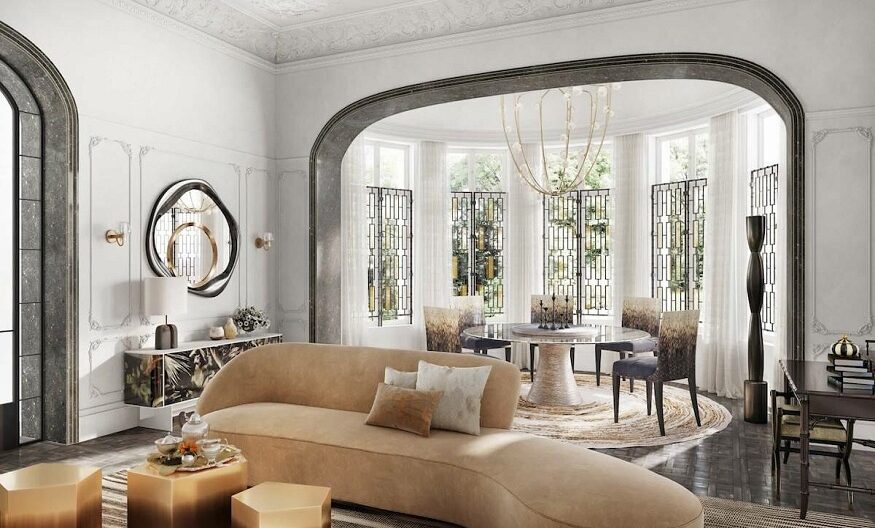 Dorothy Draper was and will always be a significant name in the interior design industry. Referred to as the "original" Martha Stewart (Cahn, 2018), the name is linked to almost all things in interior design between the 1920s and 1960s era.
To this day, Dorothy Draper is still a celebrity in the interior design industry. Despite various developments, Dorothy Draper is still celebrated because of her originality and style. A woman of glamour and taste, this iconic interior designer certainly deserves to be honored through the Dorothy Draper weekend.
Who Is Dorothy Draper?
Born Dorothy Tuckerman, the famous interior designer was born on November 22, 1889, in Tuxedo, New York, one of the first gated communities in the United States.
As a member of an aristocratic family, Dorothy Draper was a woman of fine taste. She designed the interiors of hotels, corporate offices, theaters, and private residences.
She also shared her knowledge in interior decorating through her regular columns in Good Housekeeping Magazine and Hearst Newspapers.
In 1925, Dorothy Draper opened her business, the Architectural Clearing House, which was the first interior design company in the United States. Eventually, the business was renamed Dorothy Draper and Company after a series of successful home renovations.
Dorothy Draper's background helped her connect to valuable clients and allowed her to have first-hand experiences with the historical styles that she would freely interpret.
But her first big break came years after she founded her interior design company. She was hired to redecorate the Carlyle Hotel Manhattan in the 1930s, which became the start of many major hotel commissions under her belt. The bright colors, black and white checkered floors, as well as painted doors, were her signature features.
Drake Hotel in Chicago, the Sherry-Netherland in New York, Palacio Quitandinha in Rio de Janeiro, the Fairmont in San Francisco, as well as the cafeteria at New York Metropolitan Museum of Art were all among the many designing projects Dorothy Draper worked on and earned her the highest pay given to a decorator.
Dorothy Draper, the first name you think of when talking about luxury interior designers, died in 1969. In 2006, the iconic woman became the first interior designer honored through an exhibition of her work.
What Is the Dorothy Draper Weekend?
Dorothy Draper greatly impacted and changed the interior design industry. Even today, her style is still admired and continues to influence celebrity decorators Kelly Wearstler and Jonathan Adler.
Carleton Varney is the current president of Dorothy Draper & Company of New York City. The company has hosted this event in previous years, organizing activities including meet-and-greet sessions, a special interior tour of the Greenbrier, as well as book signings. Other events such as artistic workshops, magic shows, afternoon tea, and other entertainment were also part of the itinerary.
The Dorothy Draper Weekend not only honors the iconic interior designer but is also a decorating event. The annual event has invited participants to create beautiful and bold interior designs during the artistic sessions.
This celebration is an opportunity for interior design professionals, firms, and enthusiasts to honor a legend as well as showcase their own talents and expand their network. It is an annual event where participants learn all about the Dorothy Draper style.
Citation
Cahn, M. (2018, March 20). See Why Dorothy Draper Is America's Most Fabulous Interior Decorator. Martha Stewart.https://www.marthastewart.com/1526872/dorothy-draper-americas-most-fabulous-interior-decorator