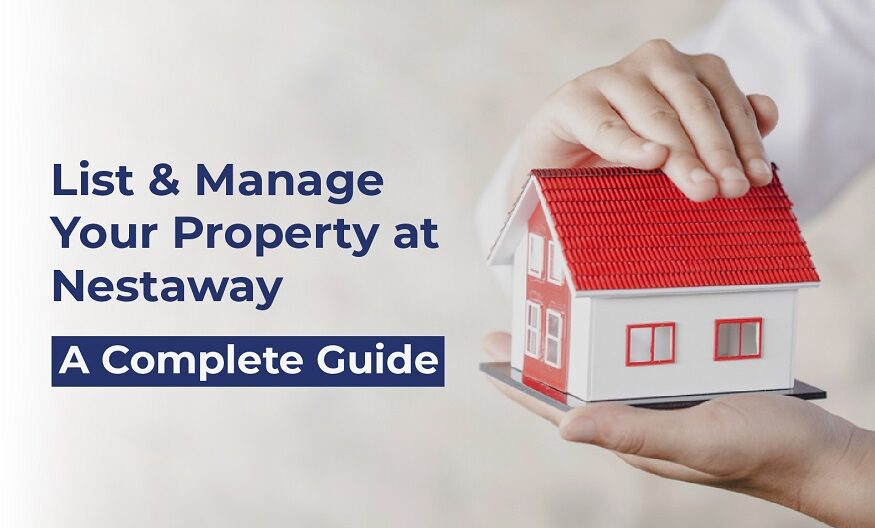 There are a few things that need to be taken into consideration before handing your new tenant the keys to your entire house. Suppose you are renting out your property for the first time. In that case, you are sure to run into a few unexpected difficulties, whether it be with location, finding trustworthy tenants or lease types, and the cost of listing your property for rent or sale.
We match your property with vetted tenants at Nestaway. In order to avoid having to reschedule your workday to host potential tenants, we offer guided house visits. We manage all the maintenance requirements for your priceless home and guarantee punctual home rents and the immaculate state of your property.
Concerned about the legal paperwork? We take care of the necessary registrations and legally sound rent agreements, so you don't have to worry. We also make sure that thousands of potential tenants see your property listing.
How to List Your Property for Free with Nestaway?
List your property for FREE in 5 simple steps.
1 Share the location, pictures, videos, and other information about your home.
2 Decide on a price: Indicate your desired rent and sale prices.
3 Select your strategy: Select whether to sell, rent, or do both.
4 Passing the keys: Schedule the inspection and return the keys to your home.
5 Commence acquiring leads: Acquire trusted customer leads and close sales.
Nestaway App- A Brief
Both the Play Store and the App Store both include the Nestaway app. We provide you with the complete house renting app experience in India after helping more than 2 lakh tenants discover houses and more than 40000 owners find tenants.
For finding and renting rooms and houses in Bangalore, Gurgaon, Hyderabad, Noida, Pune, Delhi, Ghaziabad, Greater Noida, Faridabad, Navi Mumbai, Thane, Mumbai, Chennai, Mysore, Kota, Indore, Jaipur, Ahmedabad, Coimbatore & Kochi, use Nestaway, India's largest & fastest-growing "Managed Home Rental Network."
Why Choose Nestaway App to List Your Property?
Nestaway is your one-stop shop for discovering the ideal houses at reasonable costs and stays by your side the entire time with dependable services that are unmatched in the sector. Since we firmly believe that "The home is where the heart is," we approach the entire rental process holistically. As a result, we take great delight in our services, which give you something extra to keep an eye out for!
On-site visits led by qualified individuals who have received the necessary immunizations for that total peace of mind
Save time and effort with verified video tours of homes.
verified properties in several cities in India
15 days of free rent
Renting for one month at no deposit with a confirmed reservation
Use the EMI option to pay your rent.
The Tenant Referral Program is now available to Advertise your house for rent.
You can still take advantage of the refer and earn program, which pays you up to Rs. 1000 for each validated referral, even if you are not actively trying to shift residences. Additionally, there are no restrictions on the number of friends and family members you can ask to join the ever-expanding Nestaway community.
This is how it operates:
Since the application is straightforward, becoming familiar with it won't take long. There are only 4 stages in total to finish the process.
Give your family and friends a referral code for their phone.
Request that your loved ones use the code to reserve a home through Nestaway.
Your friends or relatives must stay at the venue for a minimum of two days.
You and your friends or family members each receive Rs. 1,000.
You can earn money for each successful recommendation, as you can see how simple the entire procedure can be. It's a unique program that can be beneficial for you, your friends, and your family. When you recommend someone, they can pick a home from our selection of the best houses in the country and receive up to Rs. 1,000. You only need to sign up on Nestaway to create your account, and you'll receive a monthly report listing all of the eligible, successful referrals and prizes you've earned for that month. This makes the entire process transparent, so you always know where you stand with your referrals.
Invite Your Friends Now!
Why not utilize the program now that you are entirely familiar with it? To begin, we have a helpful form right here. Simply include your name and number along with your friend's mobile number, name, and chosen city or region. Now, you have to click the "SUBMIT" button to finish. It's a simple procedure made to make things very simple for you.
Remember that your chances of successful referral and earnings rise the more friends and relatives you invite. Therefore, start right immediately. It's time to surpass everyone else and take the top spot on the leader board because a monthly leader board lists all the top referrers on the platform.
Conclusion
The best place in India to find your next home is Nestaway. No matter if you want to move to a different city or are looking for better housing within the same city. Finding a home for yourself is made simpler by our extensive network, which spans all essential cities in India.