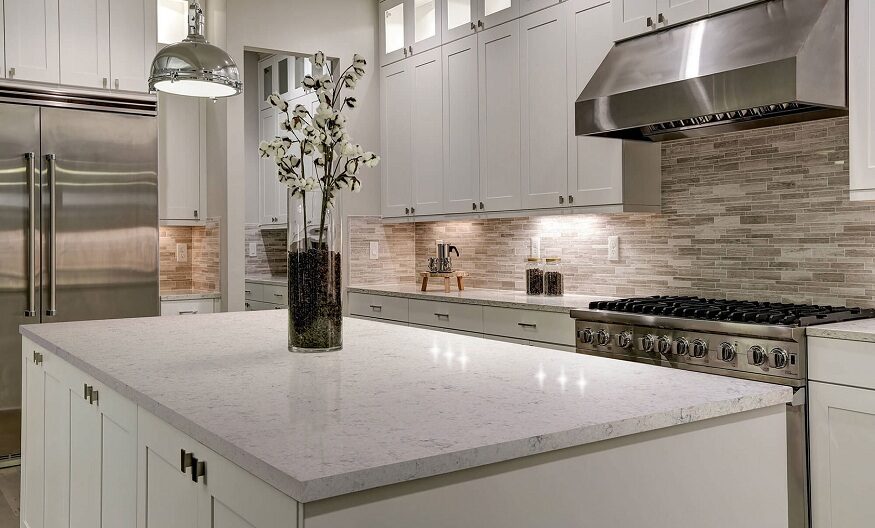 Are you considering renovating your home? Using quartz may be your best bet. There are many reasons why quartz is enjoying an uptick in popularity. It features a luxurious yet timeless style and unmatched durability.
The popular use of quartz in homes is for bathroom and kitchen countertops. But there have emerged much more versatile and alternative uses of quartz all around the home. Its versatility in being applicable to all kinds of spaces is because of its sheer variety of colours ranging from white kitchen slab to black bathroom slab.
Following are some of the best uses of quartz around your home:
Kitchen Countertops
Most homes revolve around the kitchen area, where most of the action takes place. It is no longer a space devoted to the preparation of meals- it is the main area for entertaining family and friends.
In the race to design a superlative kitchen, quartz has become the leader with its luxurious vibe similar to marble but much less expensive and low maintenance. Countertops made of quartz in the kitchen will shine, unlike any other material.
The best part is that besides its luxurious appearance, it is also highly practical. Though beautiful, quartz boasts a heat cum scratch resistant surface, perfect for wear and tear by shuffling dishes, pans and pots.
Backsplash
Invigorate the style of the model for renovating the kitchen by fitting a quartz backsplash. Nowadays, backsplashes have a central role in the kitchen, and there are myriad ways to make the place shine. One way to do this is by matching the backsplashes of the kitchen to its countertops to create a streamlined appearance. You could also select a full-height, contrasting backsplash to create a dramatic wall feature.
Quartz is ideal for backsplashes for the very same reasons that it is good for countertops. Much drama can be added to the looks of the kitchen without needing much upkeep. Backsplashes made of quartz ensure peace of mind because even though there might be stains, spills and spots, they can be wiped away easily thanks to their non-porous qualities. As opposed to a tile backsplash, backsplashes made of quartz imply that there will be no grout lines to be cleaned, making this a better option.
Bathroom Countertops
Kitchens are not the only space where quartz countertops prove to be useful. Countertops made of quartz installed in the bathroom make for a luxurious and sleek space with much practical value. The reason is that quartz is one tough customer having an anti-scratch surface, heat-resistant quality and superior durability such that it can endure any kind of rough and tough use.
In most homes, bathrooms are high-traffic areas with much use. This does not impact the value of quartz since it can withstand any rough usage like household cleaners, spilled make-up or curling irons. The main impediment with bathrooms is that they are hotbeds for germs.
Thankfully, quartz has a pore-less surface with dense nature in contrast to other natural stones like marble. Thus, it is almost germ-proof. Quartz will not absorb toothpaste and other ickiness of the bathroom, leaving no place for germs to multiply.
Shower Surround
Besides being used for kitchen and bathroom countertops, quartz is finding better application in another space: the shower! Quartz will shine in this vertical setting and has robust resistance to cleaning products as well as double the resistance impact of granite. Because of this, quartz is perfect for shower areas.
The use of quartz in a shower surround will produce a luxe feel and look without the need for a resultant rise in upkeep. The use of high-polish white quartz slabs for sale will make the bathroom seem brighter and larger. Its reflective surface will magnify overhead and natural lights. When large quartz slabs are installed, the look of a spa-like retreat will be accomplished, and tedious maintenance and clean-up needs of the shower will be avoided.
For cleaning quartz, there is no need for harsh scrubs or cleaners; its smooth and slick surface permits easy removal of build-up like soap scum. The headache of mouldy showers is known to everyone. Quartz has a nearly pore-less nature that helps to resist mildew and mold because it does not accumulate moisture. Slabs of quartz do not feature grout and have only a few seams that don't need much maintenance.
Floor Slabs
It is only natural that quartz is ideal for flooring thanks to its matchless quality of high durability. The sleek and seamless aesthetic, along with the luxe, high-end looks of quartz, makes for a unique flooring style. Also, the low need for maintenance ensures that the floors will last for a long time.
The unmatched quality of quartz, in contrast to natural stone, renders it ideal for not-so-mild use in high-traffic areas of the home. It will create a dramatic vibe to any part of the home. Quartz provides a truly captivating look and a wow factor to any flooring, be it for entryways, bathrooms or kitchens. It is possible to cut quartz slabs into stunning designs and patterns, which help create an amazingly luxurious and unique feature in the home.
Fireplaces
It is good to make fireplaces out of quartz since they are safe as well as aesthetically pleasing and functional. Quartz is a durable material which will not be damaged by heat or fire when it is placed and protected in a proper fashion.
It is possible to make quartz fireplaces in various patterns and colours, such that they can be made to match the décor of the home. They are also scratch resistant, which makes them ideal for fireplaces. They are also safe from the impact of fire and heat.
Cabinets And Drawers
Quartz can be used for cabinets and drawers in the kitchen as well as the rest of the home. It is easy to maintain and clean, making it ideal for such applications. It is highly durable and ideal for high-traffic areas like cabinets in the kitchen. It can withstand stains and scratches from daily use.
In sum, quartz has proven to be the ideal mix of technology and nature. From shower slabs to kitchen countertops, Quantra Quartz can help to enhance the style and look of any space in the home. The above benefits of quartz have become why quartz has become popular in home design.